Checklist before departing
Getting yourself prepared for a private charter flight is not much different than a commercial airline.
We have provided a printable preflight checklist for your convenience. If you have any questions regarding your trip preparations after going through this list, a charter representative is available 24/7/365 by calling 888-398-7784.
Your Pre-Flight Checklist
Air Sickness
If you are subject to motion sickness and take medication prior to flying on a commercial airline, you may wish to consider doing so before your private charter flight.
Cabin Comfort
Northern Airways provides blankets in the cabin for your comfort. Always feel free to communicate with the pilot or co-pilot regarding the cabin temperature.
The Private Charter Environment
We strive to exceed your expectations in our service to you. Should you have any other request or question regarding your trip, please contact us. We are happy to assist.
After booking your flight, you will receive a Northern Airways Trip Sheet from our Charter Coordinator which will have important information regarding your destination, including the address of the Fixed Based Operator (FBO). It will also contain contact information for your pilot should you need to contact him while on the ground.
Remember - with an air charter flight, parking is close and free! And, if you have a rent-a-car reserved at your destination, arrangements can be made to drive the car plane-side and help is available to transfer your bags from plane to car and vice versa.
Our fleet is stocked with an assortment of soda, snacks and alcoholic beverages If there is a specific beverage or snack you would like for your flight, just let us know. We also offer catering services with prior notice from a selection of local food vendors. Contact us for pricing and options for your flight.
When Packing for Your Flight
Northern Airways' aircraft has a fixed amount of interior space. Our aircraft can accommodate only so much in the way of suitcases, skis, snowboards, rifle cases, golf clubs, musical instruments, camping gear, etc. Generally, one normal size bag and one carry-on per person can be comfortably stored.
If you have additional luggage and any large items such as those mentioned above, please let us know in advance. We will make every effort to accommodate your luggage. However, if you arrive with more luggage than the aircraft can accommodate, the excess baggage may have to be shipped to your destination, or left behind.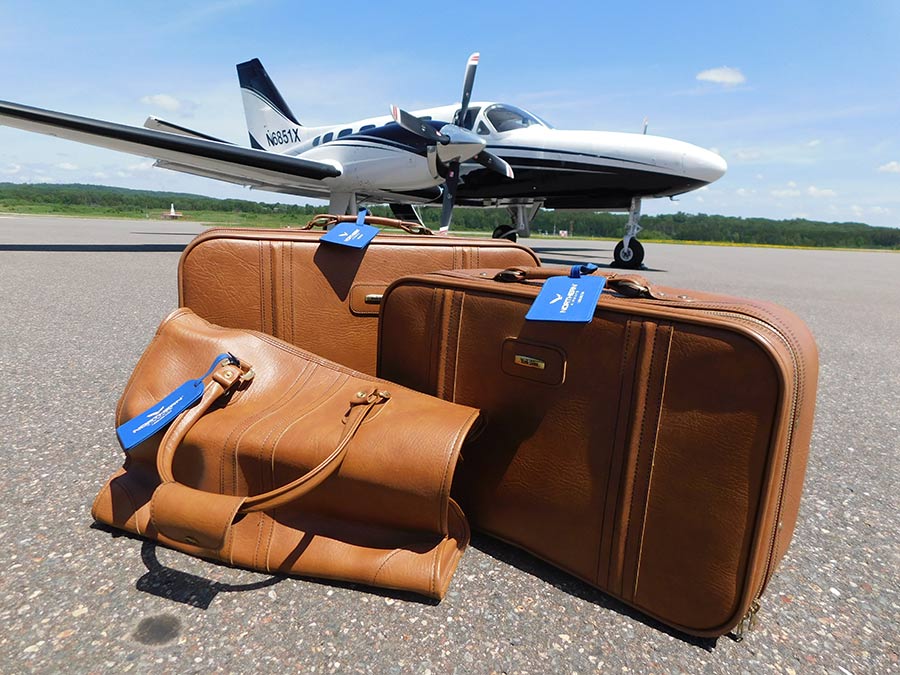 While preparing your flight, our charter representatives will ask for the weight of each passenger boarding the aircraft. Once we have determined the overall weight of the souls onboard, we will then be able to establish and communicate with you a weight threshold for your luggage. Please stay within the weight allowance while packing luggage for your trip.
For your safety, some items are not permitted onboard the aircraft. A complete list of allowable and restricted items can be found at:  https://www.faa.gov/hazmat/packsafe/